April 17, 2023
Posted by:

chosen@202q

Categories:

Safari blog, Uganda Adventure
Ziwa Rhino Sanctuary | A Safe Home for Rhinos in Uganda.
Uganda is one of Africa's premier tourist destinations with a variety of attractions, spectacular features and vast species of animals and birds to marvel at all year round. Most Uganda Safaris to Murchison Falls National Park also take tourists to track Rhinos at the Ziwa Rhino Sanctuary.
Ziwa Rhino Sanctuary is located 176km (100 miles) north of Uganda's capital, Kampala on the Nakasongola stretch along the Gulu – Kampala highway towards Murchison Falls National Park and is the home of the only wild Rhinos in Uganda. The sanctuary was set up by Rhino Fund Uganda and Uganda Wildlife Authority in a move to re-introduce Rhinos which had been extinct in Uganda because of poachers and the past civil war.
Although the Rhino Sanctuary is mainly popular for Rhino Trekking, it is also a great bird watching spot with many bird species including the rare shoebill stork. Other tourist activities at the sanctuary include; nature walks, night walks, canoe rides and relaxation. The strategic location of Ziwa has made it a fast growing destination for tourists who usually make a stop while heading to or coming from Murchison Falls National Park,Uganda's Largest And Most Beautiful National park.
Rhino Trekking at Ziwa Rhino Sanctuary.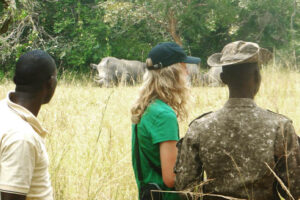 Visitors report to the sanctuary headquarters for registration and briefing from guides. The guides provide the visitors with all the necessary information about the sanctuary including safety precautions like usage of cameras and what do to incase the rhinos charge at them. After briefing, visitors begin to track the rhinos through the Savannah vegetation of this 70 acre piece of land. With assistance of ranger guides, the rhinos are located and visitors spend 1 to 2 hours with them.
The best time for Rhino Trekking at the Ziwa Rhino Sanctuary is in the morning between 8:00am and 10:00am and in the afternoon between 4:00pm and 6:00pm. Rhino Trekking is also a refreshing guided nature walk offering scenic sights and ambient sounds of the Ziwa Rhino Sanctuary, which is plenty of mammal and bird species, as is explained by the ranger guides.
Bird Watching at Ziwa Rhino Sanctuary.
Uganda has got over 1,062 recorded bird species, making it one of top bird watching destinations in the whole of Africa. There are plenty of Birding Spots in Uganda including the Ziwa Rhino Sanctuary, which has over 300 bird species. The bird trails in the sanctuary cover the swamps, savannah and woodlands. Taking a canoe ride is a great way to encounter more species of birds especially the rare shoebill stork which can be found in the swamps. Where to stay in Ziwa Rhino Sanctuary.
The Sanctuary has got a variety of accommodation facilities ranging from private facilities to budget rooms with a shared ablution with full facilities. The sanctuary also has camping grounds for those who prefer camping. The camping grounds are pristine and located very close to the sanctuary's headquarters. There is also a restaurant with specialized chefs and a fully stocked bar.
The best way to visit the Sanctuary is through a Reliable Uganda Tour Company which will do all the necessary preparations while paying full attention the visitors' preferences.